$1239.99 with coupon code for Bezior X-PLUS Electric Bike 1500W Motor 48V 17.5Ah Battery 26*4.0 Inch Fat Tire Mountain Bike 40Km/h Max Speed 200kg Load 130 KM Range LED Display IP54 Waterproof – Blue at Geekbuying.
Geekbuying Coupon Price :$1239.99 [United States Stock]
Regular Price : $1898.99 Your Save :$679 Coupon Limit: 50 times Warehouse: United States Expires : December 31, 2023
BEZIOR X-PLUS Price DEALS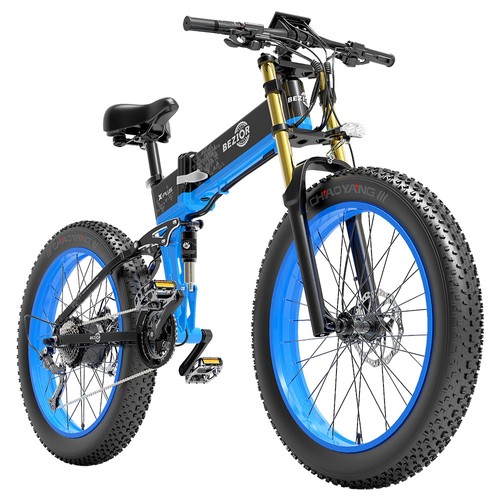 $1,899.99
in stock
as of February 9, 2023 6:45 am
X-PLUS
130 km Power-assisted mileage
17.5ah Power lithium battery
1500 w Motor
Every detail is designed BEZIOR X-PLUS, enjoy a new journey impromptu
Power assist Mileage is about 130KM
1500w High-speed motor
L-Drives Vector control system
Aluminum alloy Lightweight frame
high quality Suspension shock absorption
26*4.0 fat tire
Hydraulic disc brake & power failure protection
Three riding modes
ALUMINUM ALLOY FRAME
RUGGED DESIGN PUTS SAFETY FIRST
The strictly selected aluminum alloy 6061 material, after T4T6 heat treatment, has higher strength, corrosion resistance and rust resistance, and ensures the support strength of each part.
Electrostatic paint
Structural mechanics
stable and durable
1500W HIGH SPEED BRUSHLESS MOTOR EXCELLENT ACCELERATION PERFORMANCE 40KM PER HOUR
The 48V1500w high-speed brushless motor is light in weight. Its internal use of star gear design can amplify torque and improve energy efficiency conversion rate. This is reflected in reducing energy consumption and silent energy consumption while increasing cruising range, improving speed performance and climbing performance . Fast power output.
1500w Motor
40KM speed
4.9s Up to full /, speed
POWER 18650 LITHIUM BATTERY POWER ASSISTED RIDING UP TO 130KM 48V17.5ah power supply 18650 lithium battery pack, completely hidden inside the frame, waterproof and dustproof, double protection, strong output, always stable. Pure electric can reach 50-60KM and auxiliary riding can reach 110-130KM, pro- viding sufficient power output for riding and free riding.
A new generation of BMS Power saving plan
Battery waterproof Built-in hidden
Install lithium battery Protection board
*The 130KM battery life is measured by our company. The tester's weight is 60kg and the tester adopts the first gear to measure the constant speed of 20KM. The weight and actual conditions of different users have an impact on battery life, and the actual use of the individual will prevail.
REMOVABLE BATTERY PACK EASY TO CHARGE
Upgrade 3a wired fast charging to prevent overcharging. It can be directly con- nected to the charging hole of the vehicle body, and the battery can be removed for charging.
Q: Will the battery be heavy? Answer: The battery weighs about 3.8KG and can be easily picked up with one hand.
Q: How long does it take to fully charge the battery?
A: 5-6 hours from undervoltage to full power
EASY MODE TO GET STARTED
Just turn the handle to enter the pure electric mode. x-plus is equipped with a 1500w brushless high-speed motor, stepless speed regulation, powerful power will be provided to you in time!
Rear drive motor
Power sensor
Pedal power
lithium battery
Front wheel forward
Electronic throttle /Power off brake
Headlight
THREE MODES OF TRAVEL Built-in 3 riding modes, easily switch according to the gear and mode, can calmly deal with the needs of different riding scenes
Electric mode Turn the electric throttle 0 gear provides electric drive
Power assist mode 1-5 gears provide about 10%-80% output power
Riding mode Bicycle riding mode
UNDERSTAND EVERY STEPPING ON YOU EXPERIENCE NEW RIDING FUN
Built-in 5-level power assist mode, this mode can be adjusted by the button of the instrument, output from low power mode to high power mode, and intelligently detect each step. Depth sensing pedal strength and rotation speed, helping to ride more comfortably.
S900 SMART LCD METER MORE INTUITIVE AND EASY TO USE X-plus device intelligent LCD instrument, new interactive interface, LCD dis- play, integrated gear switch, bicycle data viewing, power output setting, at a glance, ip64 waterproof and dustproof quality is reliable
Gear shifting
battery Power
headlight switch
IP54 waterproof
status display
Riding data recording
LARGE DOUBLE SHOULDER OIL SPRING SUSPENSION FORK 26*4.0 WHEELS
The dual oil spring suspension and lockable front fork are used to provide the rider with a stronger comfort experience during a collision. Large potholes and muddy roads with a wheel diameter of 26*4.0 inches can easily pass the speed bump. The tire has a width of up to 10 cm, has anti-skid and anti-vibration functions, and has a longer span. Bigger, faster, and less effort.
12CM Front shock absorption stroke
73CM Tire diameter
10CM Tire width
SOFT TAIL REAR OIL SPRING SUSPENSION FOUR-BAR LINKAGE STRONG SHOCK ABSORBER
The four-bar linkage structure (front fork of the lower frame, front fork of the upper frame, shock absorber joint, 650-pound rear oil spring shock absorber) enhances shock resistance and shock resistance, and loads the frame Increase to 200kg and provide excellent performance. PLUS
Shock connecting piece
650 pounds back Oil spring suspension
Upper frame
Lower frame
27-SPEED TRANSMISSION SYSTEM SHIMANO IMPORTED FROM JAPAN
Optional imported Shimano 27-level transmission system, customized aluminum alloy crank 3-level chainring, classic combination of front 3 and rear 9-levels, sis positioning, durable 27-speed greatly enhances the riding pleasure.
ZOOM POWER-OFF HYDRAULIC DISC BRAKE DUAL PISTON POWERFUL BRAKING, SENSITIVE BRAKING
Taiwan's original ZOOM HB-875 sensor-type dual hydraulic disc brake, CNC anode integrated mold, the brake feel and stability are greatly improved, hydraulic brake lever, integrated hydraulic cylinder, achieve zero cylinder explosion rate, and far exceed In addition to the safety of the front and rear wheels, the rear disc brake weighs only 0.62KG.
ERGONOMIC SEAT COMFORTABLE WIDENED SADDLE The streamlined widening seat and ergonomic design are both spacious and comfortable. The exercise posture is better and the riding experience is more friendly.
BEZIOR X-PLUS Mountain Electric Bike Geekbuying Coupon Code [USA Warehouse]