$1309.99 with coupon code for Hidoes B3 Electric Mountain Bike 26*4.0 Inch Off-Road Fat Tires 1200W Brushless Motor 60Km/h Max Speed 48V 17.5Ah Battery for 50-60KM Mileage 7-Speed Transmission System at Geekbuying.
Geekbuying Coupon Price :$1309.99 [United States Stock]
Regular Price : $1634.99 Your Save : $325 Coupon Limit: 10 times Warehouse: United States Expires : November 30, 2023 Coupon Valid for : All Users
Hidoes B3 Best Price DEALS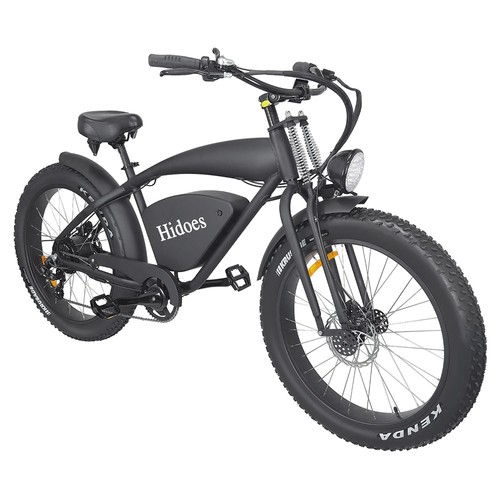 Hidoes B3 TALL-TERRAIN OFF-ROAD ELECTRIC VEHICLE 7-speed variable speed 1200 power motor multiple shock absorption
LED NIGHT LIGHTING SYSTEM Low energy consumption, long life, full light, wide-angle illumination Make your driving safer at night
THREE RIDING MODES Switch between different modes to easily deal with various scenarios
Fitness riding mode (intelligent power assist system off)
 Leisure boost mode (provides about 0-50% output)
Commuter pure electric mode (provides about 0-99% output)
OIL BRAKE + FRONT AND REAR POROUS DISC BRAKES E-ABS front and rear high-efficiency quick braking system, Flexible operation, super performance, and super high braking effect.
48V/17.5Ah lithium battery
90KG safe load
1200W high speed motor
Three riding modes
Multiple shock absorption system
Off-road grade 26inch wide tires
Multi-gear adjustment
Front and rear dual oil disc brakes
PERMANENT MAGNET BRUSHLESS DC MOTOR Large torque and high power, strong climbing power and strong output. 1200W 10-20° HIGH SPEED MOTOR STRONG CLIMB
OFF-ROAD ELECTRIC BIKE Strongly conquer all kinds of complex roads
48V/17.5Ah Lithium polymer Large capacity, long battery life, detachable design, waterproof, dustproof and anti-theft.
OVERCURRENT PROTECTION
UNDER POWER PROTECTION
HIGH TEMPERATURE PROTECTION
POWER-OFF PROTECTION
Riding range > 50-60 km Charging time 6-8h
26*4.0 INCH BIG FAT TIRE It is suitable for complex terrain such as snow and sand. It is non-slip, and thickened rubber is used for stronger piercing.
With multiple automotive-grade shock absorption, not afraid of bumpy roads
LARGE SCREEN SMART METER LCD display backlit meter, meter data is clearly visible day and night
Driving speed
Current gear
Power display
Total mileage
60KM/H beyond city boundaries Satisfy your heart for galloping in the wild, desert and highway
7-SPEED TRANSMISSION SYSTEM Even if there is no electricity during riding, it can also drive in various complex road sections through the shifting gears.
front chainring
Level 7 flywheel
rear derailleur
Hidoes B3 Mountain Electric Bike Geekbuying Coupon Promo Code [USA Warehouse]