€339 with coupon code for Roborock Dyad Pro Smart Cordless Wet and Dry Vacuum Cleaner 17000Pa Powerful Suction Dual Rollers Edge Cleaning Self-Cleaning Hot Air Self-Drying 43Mins Runtime LED Display App Control & Voice Alerts – Black at Geekbuying.
Geekbuying Coupon Price :€339 [Poland Stock]
Regular Price : €518.09 Your Save : €179.09 Coupon Limit: 100 times Warehouse: Poland Expires : December 30, 2023
Roborock Dyad Pro Best Price DEALS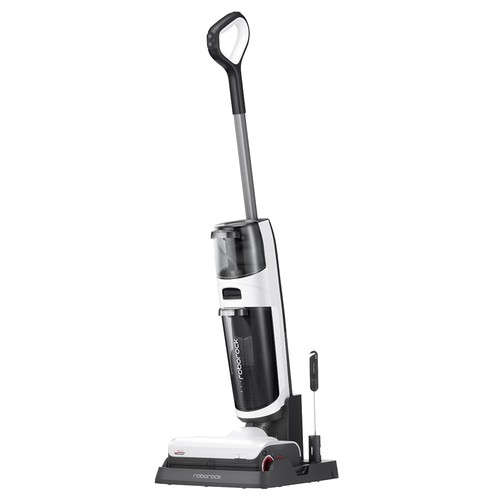 A Clean Sweep DYAD PRO
Conquer Wet & Dry Mess Effortless removal of any and all mess, no need to vacuum before mopping, simply start the device and you're ready to clean.
Improved Edge-to-Edge Cleaning Capture dirt right to up to your walls, with our edge-to-edge roller design getting as close as 1mm*, giving you the cleanest floors.
Adjustment with DirTect™ Smart Sensor Automatically adjusts its cleaning power and water flow for the perfect clean when detecting how dirty the floor is. The on-screen LED indicator tells you where the dirt is so you know where to focus.
17,000 Pa Supreme Suction Suction power of 17,000Pa* gives you intense cleaning so wet and dry messes simply have nowhere to go.
RevoBrushTM System
Self-cleaning No roller cleaning needed with 99% * of dirt being removed effortlessly after bi-directional alternating scrubbing.
Self-drying  Rollers are automatically you can easily schedule this in the Roborock App. dried with hot air avoiding odors,
Agile Cleaning Head Advanced vacuum head mean less work to achieve greater cleanliness, requiring only a gentle wrist rotation for the head to move around the object.
Roll With It Clean better with Roborock's dual roller design and effortlessly roll your vacuum forward and back.
App Connectivity & Voice Alerts Experience the best Self-Cleaning & Drying system and get updated with the Roborock APP, and instructions and real-time cleaning status will be told by voice alerts.
Free-standing Convenience Conveniently stays upright during cleaning when you've got to go
Durable Design for Longer, Efficient Cleaning
900ml Clean Tank Size
43mins Battery Life
770ml Dirty Tank Size
300sqm Cleaning Range
Get 30%* more efficiency with the new battery, save on energy and get the perfect clean. Deep clean with a maximum range of 300sqm* on a single charge.
More Cleaning Modes
Get great cleaning no matter the state of the floor with four modes for your convenience.
Auto Dispenser  Cleaning solution will be auto-pumped into the water pipe and sprayed evenly onto the rollers. It adjusts depending on floor stains, always resulting in a perfect clean. 1 small cartridge cleaning solution lasts up to 600 minutes".
Roborock Dyad Pro Cordless Wet and Dry Vacuum Cleaner Geekbuying Coupon Code [Poland Warehouse]